Some Photographs
When working on the boat, I always forget to take photographs!
This is the 'saloon' as boaters call it - I am not sure this is a name I particularly like, but as this clearly doesn't fall into the category of drawing room, I regard it as the sitting room - ish. The stove is not yet in place.
A friend came and stayed with me for a week and sorted out the electrics - up until he arrived in November I was living without any at all. I did have a candle - but I didn't find I could read comfortably by it so I would often not even have that. Darkness became my friend - so much so, even my neighbours didn't realise I lived aboard! The water tank had only just been fitted under the front deck too - but at least I had one cold tap! Until then I used a bottle filled up from a remote tap.
Here is the back of the new control electrics control panel. This was moved to the from the other side of the boat which was much more satisfactory as all the new wiring entered that side: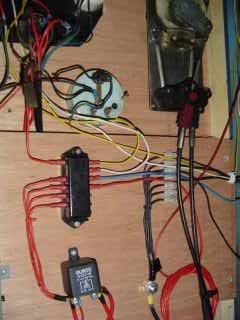 Prior to the excellent assistance of the electrical genius the electrics were a complete nightmare - C=cables were frayed, bare in places, changed colour half way through, and were independently condemned by several professionals. The new system is much better, but still not complete - that will take a while.
It was during this week that I fitted the stove - the evenings were bitterly cold, and although we were staying at my other friends house for the duration of the week, leading up to it had been miserable. One particularly cold evening I sat on the roof and drilled a hole through it - it was so cold my pint glass of water froze.
The following day I did a bit more before I went away for the weekend. My friend ground the flue to the correct length and angle for my return.